WELCOME!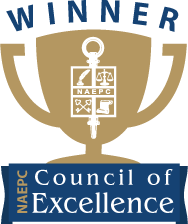 The Estate Planning Council of Central New York has been awarded the highest honor available to an estate planning council affiliated with the National Association of Estate Planners & Councils, the Leonard H. Neiman and Walter Lee Davis, Jr. Council of Excellence Award. This award was created to recognize councils that are successful in their efforts to provide a strong multi-disciplinary environment for estate planning professionals within their community and is intended to honor those councils that truly work to grow their programs and services and to provide an exceptional member experience.
"It's very exciting to be chosen for this award," said Paul Torrisi, Jr., president of the council. "Our council is the third oldest in the nation, and was incepted in 1935, so I think it sends a strong message that we're still innovating. We are honored and thrilled to be recognized as the best at what we do in the entire country."
"We are looking forward to the award ceremony scheduled on Wednesday, November 16, 2016 during the 53rd Annual NAEPC Advanced Estate Planning Strategies Conference in Litchfield Park, Arizona. The estate planning councils being recognized as 5 Star Councils provide a high level of member service and are contributing to the success of not only their members, but to the estate planning community as a whole," NAEPC President Lawrence M. Lehmann, JD, AEP®, CAP said.
The Council of Excellence Award is named for two individuals who truly sought to strengthen the bond between NAEPC and its affiliated councils during their terms on the board. Walter Lee Davis, Jr. served as president of the association in 2008 and was instrumental in forming the Council Relations Committee, a group of volunteer members who are charged with being a liaison between affiliates and the national association. Leonard H. Neiman served the association as a board member for over fifteen years and worked tirelessly to gather information about estate planning councils from around the country.
---
EPC Member Survey
Thank you to all that have participated in our EPC Member Survey. If you have not yet had a chance to complete the survey, we would like to hear from you. Please complete the survey by visiting https://www.surveymonkey.com/r/W8YLDDQ . Your opinion is valued and is vital in making changes that will benefit our members.